NORTHWEST CELLARS WINERY.
Our wines have received 2 DOUBLE PLATINUM, 3 PLATINUM, 14 DOUBLE GOLD, and 34 GOLD medals at major competitions across the country.
Northwest Cellars' wines consistently win awards in competitions all across the country, often beating out wines that are considerably more expensive and much better known. You can order our wines with our label, but we also offer the option of custom wine bottle labels on any of our wines. We have done special labels for corporate gifts, non-profit events, hotels, restaurants, private clubs, birthdays, weddings, anniversaries, holidays, and many other special occasions.
The wine speaks for itself, now let it speak for you. Learn More!

Customer Spotlight
Tampa Yacht & Country Club
We recently had the pleasure of working with Peter and Northwest Cellars to put together a private label white and red wine for our wine program at Tampa Yacht & Country Club. We could not be more pleased with the results. The service was exemplary and the product is high quality. Peter and the Northwest Cellars team made it a very easy process and our membership is thrilled with the offering as well!
They went above and beyond to ensure that our needs were exceeded. I would not hesitate to recommend them to you for your private label wine needs.
Scott B. Fairbairn, CCM, CCE
General Manager
Join Our "Cellar Rat" Wine Club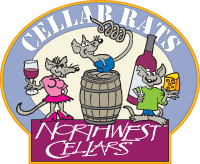 Our wine club is a little different - once you've purchased 12 bottles of wine in a year, you're automatically a member.
LEARN MORE