Northwest Cellars produces and distributes high-quality, affordable wines with custom-designed labels. Our award-winning wines are highly acclaimed by both clients and the wine press.

Read More

Our designers can turn your logos, photos and wording into a work of art, or you can send completed artwork for your own custom label. Uncork your creativity!

Read More

Northwest Cellars' wines are ideal for special events, hotels, restaurants, private clubs, non-profit fundraisers, and personal, corporate and unique promotional gifts. Our winery tasting room in Kirkland is available for your special event.

Read More
Northwest Cellars creates the ultimate statement by combining award-winning wines and imagination to create unique gifts.
Northwest Cellars' wines consistently win awards in competitions all across the country, often beating out wines that are considerably more expensive and much better known. You can order our wines with our label, but we also offer the option of custom wine bottle labels on any of our wines. We have done special labels for corporate gifts, non-profit events, hotels, restaurants, private clubs, birthdays, weddings, anniversaries, holidays, and many other special occasions.
The wine speaks for itself, now let it speak for you. This email address is being protected from spambots. You need JavaScript enabled to view it.

Customer Spotlight
Assumption-St. Bridget - School fundraiser
"We were so glad we found Northwest Cellars to help us with our custom wine label auction project. The children had so much fun creating their own labels, the wines were very high quality, and Northwest Cellars was so easy to work with. And most importantly, the project raised almost $9,000 for our school!"
Assumption-St. Bridget School
Seattle, WA
Customer Spotlight
Lombardi's - Restaurant label
"I wanted to let you know how pleased I am with the Private Label red wine that we are purchasing from you. I continue to test it after being opened 24 hours and up against wine that other vendors are asking me to try. Your wine always wins out - especially after 24 hours. That is a critical factor when the wine is used for a house pour."
Diane Symms, Owner
Lombardi's Restaurant
SMS: Get the latest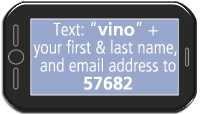 Get periodic SMS messages delivered to your mobile phone! Exclusive offers, events, advance information about new releases, and wines that are allocated, or in short supply. No cost — opt-out any time.