Uncork your creativity!
For your inspiration, here are samples of some of the personalized wine labels that we've created for our customers—and some that they've created themselves. Our designers can turn your logos, photos and wording into a work of art, or you can send completed artwork for your own custom label. The sky's the limit!
"Customer Quote"
"One of the reasons I like them is the location- very close to where I live so it's convenient & they just do a very good job of making wine. We like to consume their product :) They should just keep doing what they do, they do a fine job."
Your choice of labels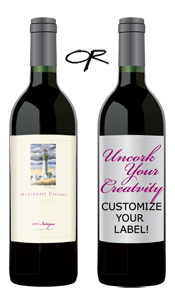 Our award-winning wines ship with your choice of the Northwest Cellars label, or your own custom-designed label.