Shop for Wine
Personalized Wine Labels
Your label on our award-winning wines. It's the perfect pairing! Need inspiration? Visit our gallery of wine labels and uncork your creativity!
Please email any wine label artwork (e.g., photo, logo) along with the text you want on your personalized wine label to Artwork [at] Northwest Cellars .com and one of our designers will contact you.
Or, if you prefer to complete the design yourself, please provide the finished wine label as an attachment to your email. Please refer to our Wine Label Artwork Specifications. In this case, we will waive the $85 setup fee.
Questions?
If you have questions, please call us at 425.825.9463 or send an email to Sales [at] Northwest Cellars .com
Would you like a Custom Label?

A fee of $85 will be added to your order if we design the label for you. No charge if you design it yourself, to our specifications.

Checkout
"Customer Quote"
"WOW!! That was one delicious wine. Thank you so much for sharing it with me."
~ Barbara Peters - Sagefields Consulting
Your choice of labels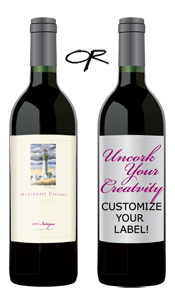 Our award-winning wines ship with your choice of the Northwest Cellars label, or your own custom-designed label.