Football Fan Wine Label
Seahawk Fans have TWO ways to toast their favorite NFL team! Our fan labels show that you have great taste in wine AND footballs teams.
Football isn't just about beer: enjoy our award-winning wines throughout the year and let everyone know you are a FAN.
Are YOU In?
For more info, please contact us at 425.825.9463 or send an email to Sales [at] Northwest Cellars .com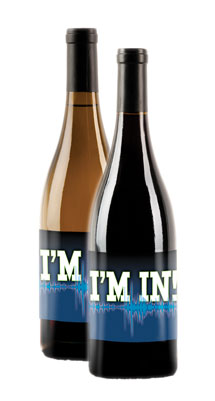 2013 "I'm In" Red Blend
50% Merlot, 20% Cabernet Sauvignon, 15% Syrah, 10% Malbec, 5% Carménère
Notes of dried crushed herbs, leather, anise and some old fashioned strawberry hard candy on the nose which follow through on the palate. Moderate tannins frame a soft mouthfeel with more dark purple fruit, chocolate, and a touch of red cherry before a lightly spicy finish.
/ Bottle
10% case discount
2016 "I'm In" Chardonnay
100% Chardonnay
"Smell the melon, dried apricot and lemon cake with that sweet icing when along comes green banana, chamomile, and a mineral flourish. Get ready for some bright, fresh lemon lime flavors, melon rind, and a surprisingly creamy mouthfeel. A judicious touch of oak and tart acidity add complexity to this wine that finishes with lingering notes of rosewater and grapefruit"
/ Bottle
10% case discount
Would you like more info?
We'll get back to you ASAP