Uncork your creativity!
For your inspiration, here are samples of some of the personalized wine labels that we've created for our customers—and some that they've created themselves. Our designers can turn your logos, photos and wording into a work of art, or you can send completed artwork for your own custom label. The sky's the limit!
"Customer Quote"
"Originally when we spoke w/Bob about the private label I wasn't really interested, but after trying it it worked out really well. Everything I've done with them has been positive- Bob's always been willing to negotiate & offer deals on volume, he helps me find other products I've needed throughout the years. It's a good relationship."
Your choice of labels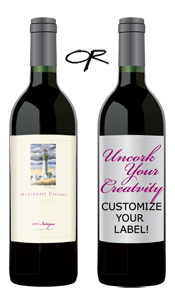 Our award-winning wines ship with your choice of the Northwest Cellars label, or your own custom-designed label.