"Customer Quote"
"After my first visit I came back a month or two later & they remembered me by name- they make it such a comfortable, like you're in their living room, experience- they draw you in like everyone that walks in the door is their best friend. When I have brought friends or family member their friendliness & personalities just radiate. I love how they remember names. Another thing that sucked me in is their level of charity work- animal charities & school fundraisers- they're very much about helping their community. You can bring your dog in which tells you a lot! You can buy certain wines that will go towards certain causes as well. They're about the wine experience, not just their business plan."
Your choice of labels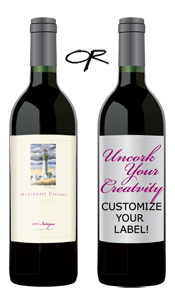 Our award-winning wines ship with your choice of the Northwest Cellars label, or your own custom-designed label.