Wine Retailer Wine Labels
You'll be proud to put your own custom label on local, award-winning wine that stands up to the best wines in the world. Stock your shelves and get ready for some happy customers!
"Customer Quote"
"I will be able to celebrate my entire Birthday year and with a case of personalized wine, it is so much fun to share."
~ Irene Carlson
Your choice of labels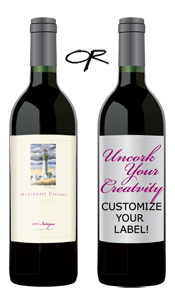 Our award-winning wines ship with your choice of the Northwest Cellars label, or your own custom-designed label.