Wine Retailer Wine Labels
You'll be proud to put your own custom label on local, award-winning wine that stands up to the best wines in the world. Stock your shelves and get ready for some happy customers!
"Customer Quote"
"I used them for a fundraiser recently, Bob made it very easy & lucrative to raise money there. His new room makes it a perfect setting. I'm very pleased with how the event went. They're dog friendly as well, being an animal lover it brings a nice feel to it. One thing is, it's a little more introverted than some of the other wineries I've been to- I feel welcome because I have that relationship but I wonder if it's as welcoming for others."
Your choice of labels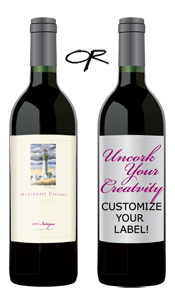 Our award-winning wines ship with your choice of the Northwest Cellars label, or your own custom-designed label.