Custom Wine Label Artwork Specifications
Please use the following guidelines in preparing wine label artwork.
File Format
JPG/JPEG format
Files submitted must have a minimum 300 dpi resolution
Wine Label Dimensions
Vertical label size: 3.87" wide x 4.62" tall (we trim to: 3.75" wide X 4.5" tall)
Adagio
Cabernet
Cadenza
Carménère
Fortissimo
Intrigue
Malbec
Merlot
Petit Verdot
Sangiovese


Horizontal label size: 4.62" wide x 3.87" tall (we trim to: 4.5" wide X 3.75" tall)
Chardonnay
Madrigal
Petite Syrah
Serenade
Sonatina
Syrah
Viognier
Blank Label Templates to Download
Printing & Color
All printing is 4-color CMYK laser
Bleeds are permitted, and are designated in our downloadable blank label templates (above)


Vertical label size: 3.87" wide x 4.62" tall (trim: 3.75" wide X 4.5" tall)
Horizontal label size: 4.62" wide x 3.87" tall (trim: 4.5" wide X 3.75" tall)

Color matching is as accurate as possible within technological limitations but may vary slightly from what is displayed on a computer monitor
Content
Wine label content describing wine type, production year and appellation must not conflict with Northwest Cellars' federally approved back label.
Artwork cannot contain copyrighted images or text unless customer owns or has licensed such material.
Northwest Cellars retains final approval on artwork.
Submission
Artwork should be submitted in electronic form.
Artwork submitted in hard-copy form for scanning is subject to a $25 scanning charge.
Customer-designed wine labels are accepted by Northwest Cellars "as is" and will not be edited or altered in any way without express written instructions from the Customer. Content, design and accuracy of text, spelling, font selection, graphic and photo element image quality, etc., are the sole responsibility of the Customer.
Custom Designs
Custom art and label design is billed directly to customer via credit card at $60 per hour.
Custom design work will be performed by Northwest Cellars or an affiliated graphics specialist.
Approval
Customer must approve artwork prior to printing and label application, even if artwork is provided by customer.
Customer-requested changes to label designs, whether the design was prepared by the customer or Northwest Cellars, which are made after final approval and after label printing and/or application will be subject to additional label design and production charges.
Customer agrees that Northwest Cellars reserves the right to use their label on the Northwest Cellars website and for other promotional purposes.
"Customer Quote"
"I will be able to celebrate my entire Birthday year and with a case of personalized wine, it is so much fun to share."
~ Irene Carlson
Your choice of labels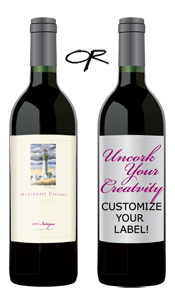 Our award-winning wines ship with your choice of the Northwest Cellars label, or your own custom-designed label.