"After my first visit I came back a month or two later & they remembered me by name- they make it such a comfortable, like you're in their living room, experience- they draw you in like everyone that walks in the door is their best friend. When I have brought friends or family member their friendliness & personalities just radiate. I love how they remember names. Another thing that sucked me in is their level of charity work- animal charities & school fundraisers- they're very much about helping their community. You can bring your dog in which tells you a lot! You can buy certain wines that will go towards certain causes as well. They're about the wine experience, not just their business plan."
Shop for Wine
Anniversary Wine Gifts
Looking for anniversary wine gift ideas? Remember the special day, whether you're celebreating your own anniversary or someone close to you — anniversary wine gifts are a perfect way to count the years.
First and foremost, we make great wines. So you can always be assured your gift will be high quality in all respects. Our designers create beautiful, memorable labels, and we hand label each bottle for you. We would be happy to provide references so you can talk to other clients about how they have used our wines.
Northwest Cellars creates the ultimate statement by combining award-winning wines and artistic imagination to create unique gifts. Our wines consistently win awards in competitions all across the country, often beating out wines that are considerably more expensive and much better known. You can order our wines with our label, but we also offer custom labels on any of our wines.
If you select the Custom Wine Label option, you then get to make the outside as amazing as the wine itself. Create your own wine label, or our designers can turn your logos, photos and wording into a memorable work of art.
For your inspiration, here are samples of some of the anniversary wine gift labels that we've created for our customers—and some that they've created themselves.
The wine speaks for itself, now let it speak for you.
Custom Wine Labels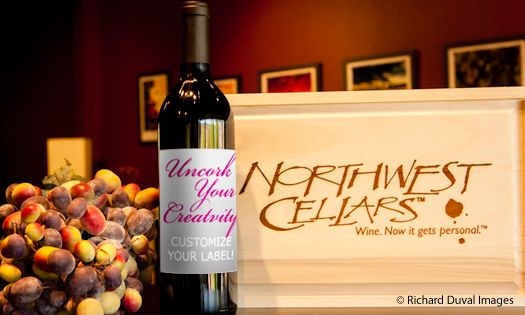 Our designers can turn your logos, photos and wording into a work of art, or you can send completed artwork for your own custom label. Uncork your creativity!
Would you like a Custom Label?
[read more]
A fee of $85 will be added to your order.
Click only once. If you accidentally click more, you will be able to remove the extra items from your shopping cart at checkout.