Gifts & Accessories
NEW! Stone Coasters
Look sharp and protect your furniture with real stone wine coasters featuring popular Northwest Cellars labels and imagery.
Only $10.00 each!
| | | | | |
| --- | --- | --- | --- | --- |
| Wine Pouring: | Adagio (beach): | Intrigue (lighthouse): | Madrigal (cityscape): | Sonatina (goldfinch): |
Northwest Cellars corkscrew with built-in foil cutter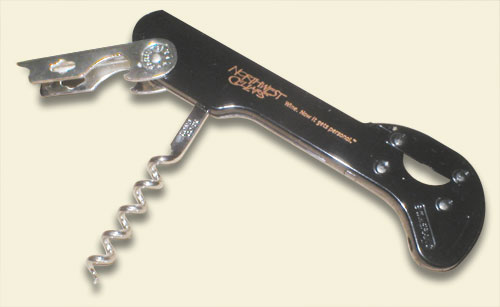 With its built-in retractable foil cutter, this waiters corkscrew affords you the added convenience of using only a single tool for opening a wine bottle.
Only
Having trouble deciding what to buy for that special person?
A Gift Certificate is always perfect!

Just select some and add to your cart:

gift certificate:
gift certificate:
gift certificate:
DECANTUS™ Deluxe wine aerator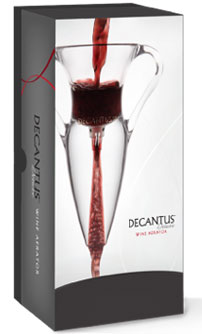 Reveal the fullest flavor and bouquet of your red wine
The DECANTUS has some serious curves. Sinuous and graceful, in the shape of a classic Greek amphora vase, it has two handles for easy handling while pouring, and simple to hand off to your next guest. Base, velvet storage pouch & cleaning brush are included.
To use, hold the DECANTUS™ over the wine glass. Gently pour enough wine to fill the top reservoir bowl and enjoy perfectly aerated wine.
Only
Northwest Cellars - Wooden Gift Box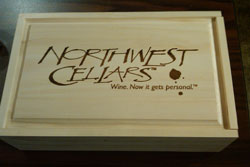 2 Bottle Wooden Box:
Only
6 Bottle Wooden Box:
Only
Northwest Cellars -
Reidel wine glass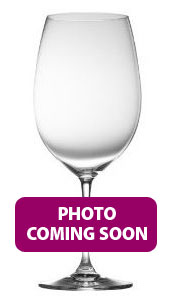 Only
WineSkin
With it's bubble-pack inner and tough vinyl outer coating, WineSkin is the perfect leak-proof way to safely transport your wine.
Only
"Customer Quote"
"Northwest Cellars has been by far one of the best finds when it comes to wine. So many vintners can come off quite upper hand and make you feel like they are doing you a favor. Bob and his staff make Northwest Cellars a joy to frequent and they have some outstanding award winning wine to boot. They are a must if you love wine. Best way to eat grapes."
~ Doug B.