"Their overall interest in wine is like a passion. They really produce a high quality wine so it's always fun to see what's new. He has these events where if you buy wine it goes to their particular group, sometimes I do it late but he always says sure no problem. They do a lot of fundraising events & a certain percentage will go towards that cause."
DECANTUS™ Deluxe wine aerator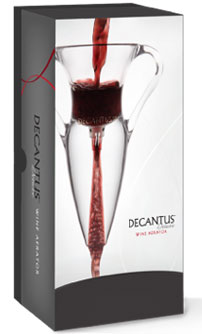 Reveal the fullest flavor and bouquet of your red wine
The DECANTUS has some serious curves. Sinuous and graceful, in the shape of a classic Greek amphora vase, it has two handles for easy handling while pouring, and simple to hand off to your next guest. Base, velvet storage pouch & cleaning brush are included.
To use, hold the DECANTUS™ over the wine glass. Gently pour enough wine to fill the top reservoir bowl and enjoy perfectly aerated wine.
Only