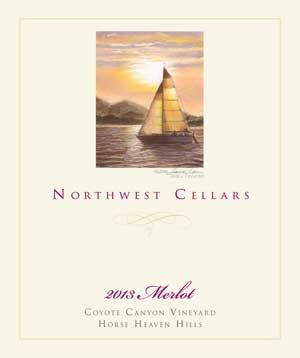 100% Merlot
Coyote Canyon Vineyard, Horse Heaven Hills
Opens luxuriously with whiffs of warm fruit compote, vanilla wafers, cherry candy and a touch of musk. A plush mouthfeel leads to flavors of spiced plums and more cherry around a core of rich dark berries. Well integrated tannins, subtle spice finish. This wine has body and soul. Amen.
Bottled August 2015, 228 cases
2013 Merlot Coyote Canyon

Columbia Valley

SILVER
Coyote Canyon

---

---

2013 Yakima Valley Merlot

EXCELLENT
Great Northwest Wine

---

2012 Merlot

Coyote Canyon

SILVER
Great Northwest Wine, 2016 Cascadia Wine Competition

PLATINUM
Wine Press NW Award, December 2016

This collaboration among winemaker Robert Smasne, Kirkland vintner Robert Delf and grower Mike Andrews is a lovely example of well-made Washington Merlot with its sweet herbs, cassis, red and dark cherry, a pinch of horehound, then delicious plums. It finishes with smooth tannins and a juicy combination of Marionberry and pomegranate. (104 cases, 14.1% alc.)

GOLD
American Wine Society



EXCELLENT
Great Northwest Wine

---

2012 Merlot

Columbia Valley

OUTSTANDING
Great Northwest Wine

GOLD
American Wine Society

BRONZE
Finger Lakes International Wine Competition

---

2012 Merlot

Cordon Grove

OUTSTANDING!


"Gary Grove's vineyard in Prosser, Wash., has contributed to some of the top wines from acclaimed Walla Walla Vintners, and here the tandem of Robert Delf and Robert Smasne created four barrels' worth of meritorious Merlot from the Yakima Valley site. The nose offers hints of dark chocolate, plums, Western serviceberry, mincemeat spice and gravel dust. On the pour is a sizable delivery of blackberry and Damson plum, backed by a bold yet balanced structure of blueberry seed tannins and pomegranate acidity."

SILVER

SILVER
Savor NW Awards

SILVER
Texsom International (formerly Dallas Morning news)

DOUBLE GOLD

Seattle Wine Awards

---

2010 Merlot




BRONZE
Finger Lakes International Wine Competition

---

2008 Merlot




BRONZE
2013 Savor NW Wine Competition

BRONZE
American Wine Society

BRONZE
International Women's
Wine Competition

---

2005 Merlot




DOUBLE GOLD
Finger Lakes International
Wine Competition


GOLD
2008 Seattle Wine Awards

BRONZE
Dallas Morning News
Wine Competition

MEATY FISH: GRILLED SALMON OR TUNA
LIGHTLY SPICED DARK MEATS
MUSHROOM RISOTTO
BRAISED RABBIT
Custom Wine Labels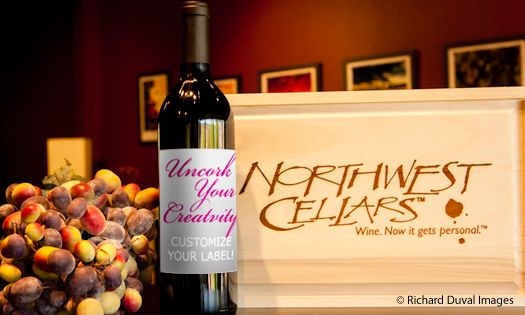 Our designers can turn your logos, photos and wording into a work of art, or you can send completed artwork for your own custom label. Uncork your creativity!
Would you like a Custom Label?
[read more]
A fee of $85 will be added to your order.
Click only once. If you accidentally click more, you will be able to remove the extra items from your shopping cart at checkout.
"Customer Quote"
""Since the beginning of my real estate career as a broker on the Eastside, I partnered with Northwest Cellars to provide a unique and memorable keepsake for my clients upon the successful closing of their new home. Customized wine labels have been the perfect gesture to express my client gratification. There's nothing like a fabulous bottle of personally-branded local Northwest wine featuring the client's new home and closing date right on the label to make a lasting impression. Northwest Cellars has been instrumental in building my brand marketing over the years.

Bob Delf, Vintner and owner of Northwest Cellars, along with Robin Hirano, who runs the day to day, have been more than accommodating and gracious over the years. Bob's expert wine-making ability produces incredible award-winning blends that I'm proud to promote and present to my valued clients. Robin's excellent communication and attention to detail provide even greater impact for my business. These are the sort of business-minded people I prefer to partner with, together we make a fantastic team!" "
~ Ty Hughes
Your choice of labels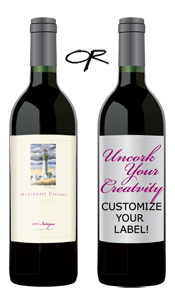 Our award-winning wines ship with your choice of the Northwest Cellars label, or your own custom-designed label.