"Good wine, convenient location & Bob is very knowledgeable. He makes the wine tasting fun."
50% Cabernet Sauvignon, 25% Merlot, 25% Carménère
Tasawik, Spofford Station, Scooteney Flats, Seven Hills, Coyote Canyon Vineyards
Columbia Valley
Luscious on the nose with a mix of ripe blackberry, dark plum, black currant, some bramble, and dried herbs that lead to a flavorful palate reflecting all of the above plus a touch of that hot green pepper. Beautifully blended with a finish that just doesn't quit.
Bottled August 2015 - 187 cases
---

2013 Cadenza






SILVER
Cascadia Wine Competition


SILVER
Savor Northwest

---

2012 Cadenza




DOUBLE GOLD
American Wine Society

92 POINTS
Wine and Spirits Magazine, February 2012
"Carmérère leads this blend with its smoky, leafy scent, and driving acidity. It adds complexity to the Cabernet (50%) and Merlot (25%), with spicy, smoky dark cherry flavors, while its granular texture and leafy tannins add grip."

OUTSTANDING
by Great Northwest Wine

"Yakima Valley winemaker Robert Smasne continues to show his skill with Carménère in this blend of Bordeaux varieties that leads with Cabernet Sauvignon (50%) and Merlot (25%). The herbal notes that appeal to many fans of Cabernet Franc and Carm leap out of the glass with hints of oregano and green peppercorns, but there's a rush of supporting aromas akin to blackberry jam, dried cherry, vanilla and shaved dark chocolate. On the palate, the herbaceousness gets pushed well into the background as the focus is on sweet barrel tones with ripe black currant, Van cherry and raspberry flavors. The structure is rich, bold, beautiful and easy to enjoy with lingering food-friendly acidity. Serve with short ribs, London broil or meatloaf."

SILVER
Texsom International (formerly Dallas Morning News)

SILVER
Hilton Head Island Wine Competition, Feb 2015

SILVER
Savor NW Wine Awards, March 2015




---

2009 Cadenza




DOUBLE PLATINUM
2012 Wine Press Northwest



GOLD
Savor NW Wine Awards

GOLD
2012 Seattle Wine Awards

MATURE CHEESES LIKE BRIE, MANCHEGO, GRUYERE, GOUDA
GRILLED MEATS
SPICY FOODS
Custom Wine Labels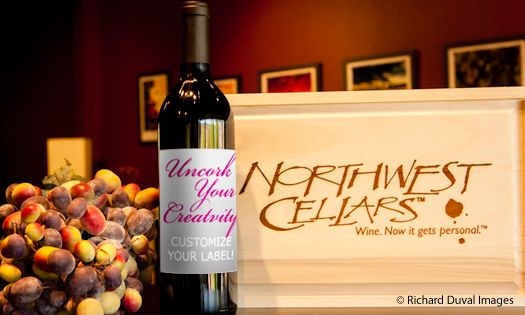 Our designers can turn your logos, photos and wording into a work of art, or you can send completed artwork for your own custom label. Uncork your creativity!
Would you like a Custom Label?
[read more]
A fee of $85 will be added to your order.
Click only once. If you accidentally click more, you will be able to remove the extra items from your shopping cart at checkout.