"Northwest Cellars goes way beyond good wine to produce beautiful products delivered with the highest level of customer service."
~ Holly Perkins - The Schuster Group, Inc.
"The 2012 Intrigue is a wine that doesn't immediately show all of its cards. The six varietals all tell a very different story, from the aroma to the back palate; a lot of red blends tend to hit you with fruit and tannins, but the Intrigue - while showing restrained tannic structure - focuses more on the complexity of each grape, balancing beautiful red fruit, velvety texture and a finish that is, well, intriguing."
~ Billy Farrow, Dining Room Manager, Sand Point Country Club
Custom Wine Labels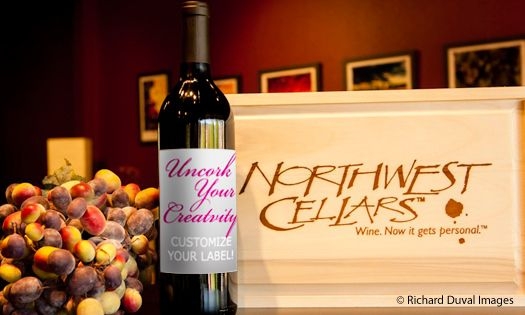 Our designers can turn your logos, photos and wording into a work of art, or you can send completed artwork for your own custom label. Uncork your creativity!
Would you like a Custom Label?
[read more]
The option has an $85 setup fee that will be billed after checkout.