"After my first visit I came back a month or two later & they remembered me by name- they make it such a comfortable, like you're in their living room, experience- they draw you in like everyone that walks in the door is their best friend. When I have brought friends or family member their friendliness & personalities just radiate. I love how they remember names. Another thing that sucked me in is their level of charity work- animal charities & school fundraisers- they're very much about helping their community. You can bring your dog in which tells you a lot! You can buy certain wines that will go towards certain causes as well. They're about the wine experience, not just their business plan."
"The private labels produced for us at Sand Point Country Club have been so well-received! It's one thing to have a stunning label - which Bob and his team pulled off to perfection - but it's yet another to have wine inside the bottle that true wine drinkers enjoy consistently. It was such a gratifying experience to see our members take home the bottles to show off to friends and family, not only because of the label that so perfectly displayed their club, but also because they knew they were serving exceptional wine, too!"
~ Billy Farrow, Dining Room Manager, Sand Point Country Club
Custom Wine Labels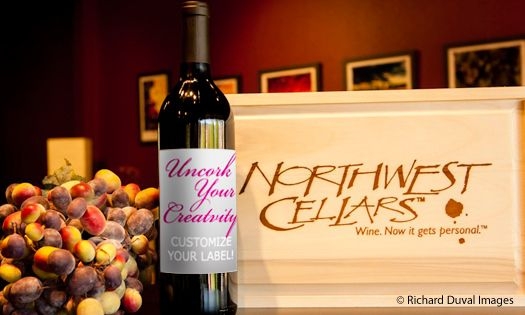 Our designers can turn your logos, photos and wording into a work of art, or you can send completed artwork for your own custom label. Uncork your creativity!
Would you like a Custom Label?
[read more]
The option has an $85 setup fee that will be billed after checkout.