What People Are Saying
"We had my husband's 50th birthday party last weekend and served Old Guy Red. It was a big hit! My husband was thrilled and our guests commented on the high quality of the wine. It was such a fun addition to our party. Thanks for all of your help in making it special."
Birthday Wine Gift Labels
Birthday wine gifts with a birthday wine gift label are the perfect way to celebrate your favorite wine-lover. Got a wine-lover on your list? Someone hard to shop for? Get the party started with a customized birthday wine gift labels on a case of award-winning Washington wine. What a clever way to say "SURPRISE!"
First and foremost, we make great wines. So you can always be assured your gift will be high quality in all respects. Our designers create beautiful, memorable labels, and we hand label each bottle for you. We would be happy to provide references so you can talk to other clients about how they have used our wines.
Northwest Cellars creates the ultimate statement by combining award-winning wines and artistic imagination to create unique gifts. Our wines consistently win awards in competitions all across the country, often beating out wines that are considerably more expensive and much better known. You can order our wines with our label, but we also offer custom labels on any of our wines.
If you select the Custom Wine Label option, you then get to make the outside as amazing as the wine itself. Create your own wine label, or our designers can turn your logos, photos and wording into a memorable work of art.
For your inspiration, here are samples of some of the birthday wine gift labels that we've created for our customers—and some that they've created themselves.
The wine speaks for itself, now let it speak for you.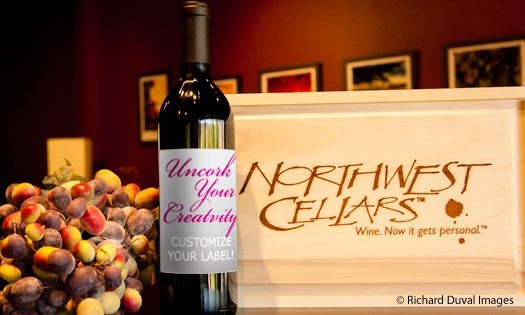 Our designers can turn your logos, photos and wording into a work of art, or you can send completed artwork for your own custom label. Uncork your creativity!
Would you like a Custom Label?
[read more]
The option has an $85 setup fee that will be billed after checkout.