What People Are Saying about our business wine gifts
"I used them for a fundraiser recently, Bob made it very easy & lucrative to raise money there. His new room makes it a perfect setting. I'm very pleased with how the event went. They're dog friendly as well, being an animal lover it brings a nice feel to it."

Business Wine Gifts
Celebrate business achievements with award-winning wines and a custom label created for your business to give as gifts to current/potential clients, employees, business partners, or as give-a-ways at trade shows. The possibilities for customized business wine gifts are endless.  
Business wine gifts are the perfect complement to special celebrations at your company or when you want to give a personalized gift to remind people about your business. Pop the cork for an impressive grand opening!
First and foremost, we make great wines. So you can always be assured your gift will be high quality in all respects. Our designers create beautiful, memorable labels, and we hand label each bottle for you. We have an inspiration gallery available to illustrate the potential. We would be happy to provide references so you can talk to other clients about how they have used our wines.
Northwest Cellars creates the ultimate statement by combining award-winning wines and artistic imagination to create unique gifts that are as special as your business. Our wines consistently win awards in competitions all across the country, often beating out wines that are considerably more expensive and much better known. You can order our wines with our label or our designers can work with you to create a custom label as a way to celebrate a variety of occasions with any of our wines.
If you select the Custom Wine Label option, you have to opportunity to make the outside as amazing as the wine itself. Create your own wine label or let designers turn your logos, photos, or catch-phrase into a memorable work of art.
For your inspiration, here are samples of some of the business wine gift labels that we've created for our customers—and some that they've created themselves.
The wine speaks for itself, now let it speak for you.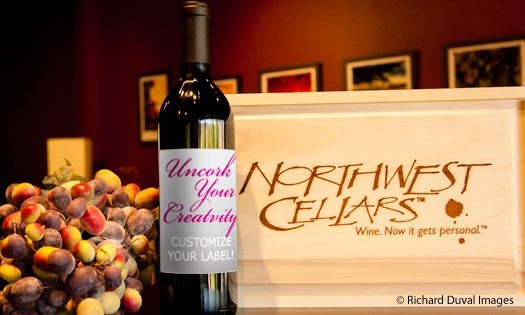 Our designers can turn your logos, photos, or catch-phrase into a work of art, or you can send completed artwork for your own custom label. Uncork your creativity!
Would you like a Custom Label?
[read more]
The option has an $85 setup fee that will be billed after checkout.