What People Are Saying
"Their overall interest in wine is like a passion. They really produce a high-quality wine so it's always fun to see what's new. He has these events where if you buy wine it goes to their particular group, sometimes I do it late but he always says sure no problem. They do a lot of fundraising events & a certain percentage will go towards that cause."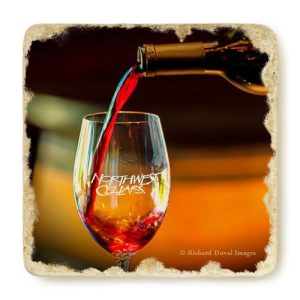 Fantastic Corporate Wine Gifts Including Personalized Bottles Of Wine
It's no secret that employees, colleagues, business partners and clients love recognition. What better way to celebrate special occasions and achievements than with our award-winning wines and your own custom wine label? Recognize their support and contributions with this classy way to say thank you. Want to make sure your business event is memorable? Corporate wine gifts make a perfect takeaway at special events and meetings.  What a great way to remember your company as attendees enjoy a good class of wine from a personalized bottle.
First and foremost, we make great wines.  You can always be assured your gift will be high quality in all respects. Our designers will work with you to create beautiful, memorable labels and we hand tag each bottle for you. Need some inspiration? Check our our gallery of some of the corporate wine gift labels we've created for our customers—and some that they've created themselves. We would be happy to provide references so you can talk to other clients about how they have used our wines.
Northwest Cellars creates the ultimate statement by combining award-winning wines and artistic imagination to create uniquely personalized corporate wine gifts. Our wines consistently win awards in competitions all across the country, often beating out wines that are considerably more expensive and much better known. You can order our wines with our label, but we also offer custom labels on any of our wines. If you select the Custom Wine Label option, you then get to make the outside of the bottle as amazing as the wine itself. Create your own wine label, or our designers can turn your logos, photos and wording into a memorable work of art.
A personalized gift of wine from your business or corporation is a memorable way to say thank you!
The wine speaks for itself, now let it speak for you.
Place an order
I need more information
Custom Wine Labels For Corporate Wine Gifts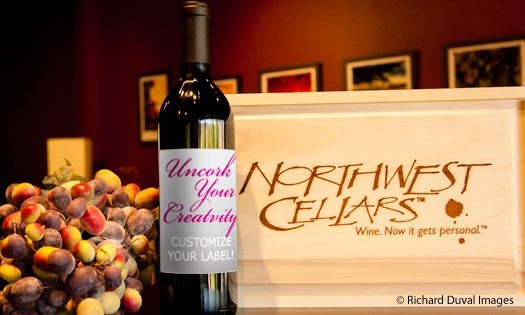 Our designers can turn your logos, photos and wording into a work of art, or you can send completed artwork for your own custom label. Uncork your creativity!
Would you like a Custom Label?
[read more]
The option has an $85 setup fee that will be billed after checkout.