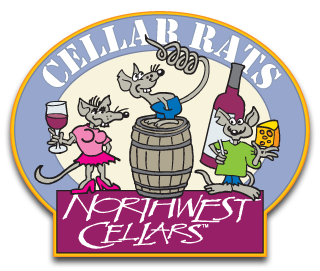 Are you tired of getting wine shipped to you that you don't want? We believe a wine club should give you the opportunity to try new wines, but not force them on you! Our wine program is a little different.

We do not automatically ship any wine to you – you buy/order whatever wine you want and once you purchase a total of 12 bottles in a calendar year, you are automatically a wine club member. We know that with so many choices for great wine, this is a big deal. So, a little recognition is in order!

Being a Cellar Rat entitles you to discounts on wine and merchandise!
· 20% on bottles, 30% on cases in the Kirkland Tasting Room and Online
· 10% on glass pours in the Kirkland Tasting Room
· 10% on merchandise

Free tastings at the Kirkland Tasting Room for you and up to 3 friends!
Early releases access to new wines!
Special offers and events just for Northwest Cellars' Cellar Rats!

You'll also receive a stemless, shatterproof Cellar Rats goVino® Wine Glass*.


When you bring your Cellar Rats Wine Glass…
· To the Winery in Kirkland: add a Reserve Taste to your tasting line-up
· To events in the market: get One Extra Taste of your favorite wine if you see us at an event out in the market
· To Nectar Tasting Room in Spokane: get One Free Tasting when you bring your glass into Nectar Tasting Room.


*Limit 2 glasses per account
"Customer Quote"
"Northwest Cellars has been by far one of the best finds when it comes to wine. So many vintners can come off quite upper hand and make you feel like they are doing you a favor. Bob and his staff make Northwest Cellars a joy to frequent and they have some outstanding award winning wine to boot. They are a must if you love wine. Best way to eat grapes."
~ Doug B.