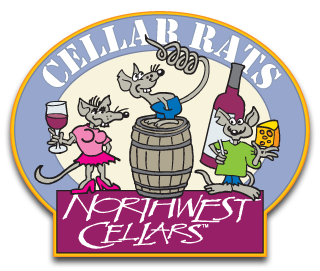 Are you tired of getting wine shipped to you that you don't want? We believe a wine club should give you the opportunity to try new wines, but not force them on you! Our wine program is a little different.

We do not automatically ship any wine to you – you buy/order whatever wine you want and once you purchase a total of 12 bottles in a calendar year, you are automatically a wine club member. We know that with so many choices for great wine, this is a big deal. So, a little recognition is in order!

Being a Cellar Rat entitles you to discounts on wine and merchandise!
· 15% on bottles, 20% on cases in the Kirkland Tasting Room and Online
· 10% on glass pours in the Kirkland Tasting Room
· 10% on merchandise

Free tastings at the Kirkland Tasting Room for you and up to 3 friends!
Early releases access to new wines!
Special offers and events just for Northwest Cellars' Cellar Rats!

You'll also receive a stemless, shatterproof Cellar Rats goVino® Wine Glass*.


When you bring your Cellar Rats Wine Glass…
· To the Winery in Kirkland: add a Reserve Taste to your tasting line-up
· To events in the market: get One Extra Taste of your favorite wine if you see us at an event out in the market
· To Nectar Tasting Room in Spokane: get One Free Tasting when you bring your glass into Nectar Tasting Room.


*Limit 2 glasses per account
"Customer Quote"
"We had my husband's 50th birthday party last weekend and served Old Guy Red. It was a big hit! My husband was thrilled and our guests commented on the high quality of the wine. It was such a fun addition to our party. Thanks for all of your help in making it special."
~ Debbie Mack - Olympia, WA