Northwest Cellars Blog
Award-winning wines and custom wine labels. Wine. Now it gets personal.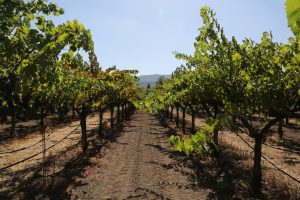 A GRAPE BY ANY OTHER NAME
We're talking about Petit Verdot here. French, once again, so we say peh-tee ver-doh. Petit Verdot translates to "little green one". Oh, but it's a red grape that makes a red wine you may say. So why is it called little green one? OK, we might as well start in on the whys, hows and wherefores of this grape.
It is called Petit Verdot for two reasons. One is because it is very late ripening. So much so that it may fail to ripen at all in the wrong climate. Or, the berry bunches might be very inconsistent with many green grapes mixed in with the riper ones. The second reason is because the berries may fail to develop properly at all in the spring without the right weather during flowering. Little green one indeed. And the winemakers wail.
HISTORICALLY SPEAKING
We all know (don't we?) that this variety is associated with the Bordeaux region. But what is its history? There are records of it from 1736 in Bordeaux during the 18th century that actually predate Cabernet Sauvignon. But other records have it in Italy from the Basilicata region during the 16th century. It seems to be entirely unclear. But because of the above stated reasons it fell out of favor with winemakers in Bordeaux. And the big freeze of 1956 really did it in. It hardly got replanted after this event virtually eliminating the variety almost to extinction. (Thankfully, that didn't happen.) Bordeaux is just a little too cool and these vines really thrive in warmer climates. This suggests an origin in much hotter climes than the Gironde. Ampelographers think it might have come from the Tarn Valley near Toulouse close to the Pyrenees in southwest France. Another possibility is that vines were brought to the region by the Romans as they moved inland from the Mediterranean. Or perhaps they did come from Mars after all.
WHAT IT BRINGS TO THE TABLE… ER, GLASS
But here on earth, getting back to Bordeaux, initially it might seem peculiar that Petit Verdot is one of the six legally approved grapes of the area. So, clearly, it does have its raison d'être. When it is used as part of the blend it adds tannin, deep color and dense flavors to the wine. Winemakers found it useful in filling out the mid palate in varieties like Cabernet Sauvignon that might sometimes be described as "hollow." All this with it being typically being only 1-3% of the blend. The exception is Château Palmer which uses up to a whopping 6%. You will also find it in the many less famous Meritage and Bordeaux styled blends. A mere condiment, you might say, but what a powerful one.
Make no mistake about it, Petit Verdot is a high quality grape. It is a bold variety with full bodied structure. It is similar in weight to Cabernet Sauvignon and fans of Cab, Mourvèdre or even Zinfandel would probably like the pure varietal version of this wine. Especially its New World expressions, which we will get to later. Generally speaking, PV is rich in dark fruits with black cherry, plum, and sage with some floral notes like violet and lilac. It can also have gravel like minerality. Remember those pencil shavings in the tasting notes from a while back!
A NEW DAY IN A NEW WORLD
Nowadays, due to its excellent latent qualities, Petit Verdot is being made more and more in its pure varietal form. Some in old world bottlings, but much more so in the New World. So while it will always be associated with Bordeaux wines, you can look to places like Australia which grows the most Petit Verdot in the world with four times the plantings of Bordeaux. Here it is making a happy home in places like Barossa Valley, McLaren Vale and Langhorne Creek. Even California grows twice as much, with other places in the US also trying it out. Look for PV's from Arizona, Texas or Virginia along with our own Washington state. There are small bottlings from Chile and South Africa as well. I also hear Peru and Uruguay are really doing a bang up job of it due to their warm, temperate and even subtropical climates. These countries are also wet and humid which would normally cause lots of problems for growing grapes but, because Petit Verdot grapes are so thick skinned, they can fend off disease.
Being thick skinned not only gives PV this advantage in the vineyard it also gives the wines mighty color and flavor while additionally providing good aging potential. Due to high acid and high tannins this wine can comfortably cellar for 10 years.
STYLES
Getting back to its flavor profile, while this wine can occasionally be a bit rustic and smoky, it is more often, in its new world iteration, juicy, meaty and fruity with lots of berry flavors in its youth. With age it acquires floral notes like violet, lilac and lavender, then chocolate, coffee and licorice. Producers oak this wine to soften it which also adds the barrel flavors of vanilla, hazelnut and mocha.
Australia makes a lighter style in body and color. In some areas they will overcrop to achieve this making a wine that is softer with smoother tannins. At least this is what I've heard. I tried to get my hands on an Australian bottle to taste but none were readily available. I'm curious to taste some though, so I'm still looking.
A TASTING REVIEW
In the meantime, here is what I tasted:
Michael David 2019 Inkblot $26.99 Petit Verdot 15.5% abv Lodi, CA
Great name for this wine due to its very saturated intense color. Has a big fruity nose full of black fruit and dark cherry. The palate follows suit with more black fruit all around along with chocolate and a bit of leather. Rich, smooth and easy to drink.
PerCecco 2018 Maremma Toscana IGT $39.99 Petit Verdot 14.5% abv Tuscany, Italy
More garnet colored with a touch of haze due to it being unfiltered. This is what I think of as "Italian tasting." By that I mean lighter in body with high acidity and high tannins. I found this wine to be a little tight but after running it through an aerator I could detect a light sweet scent of rose and marionberry. There were flavors of dried cranberry, black plum, sweet cherry and oregano. Also a bit savory. I would say this is more of a food wine.
Northwest Cellars $42.00  Petit Verdot 2016  14.1% abv Columbia Valley, Washington State
Ok, I might be a little biased with this one because it's from Northwest Cellars. But here's what I think: more full-bodied but not heavy with lots of blackberry, cherry, floral notes and whiffs of rose hip tea on the nose followed by flavors of black cherry, boysenberry pie and licorice. Nicely balanced. I can drink this with or without food.
So, while I like all three of these for different reasons, and, I know I shouldn't say this, my favorite of the three is Northwest Cellars. I find this one to be more of a mix of old and new world styles. And I like the fact that I can drink it with or without food.
PLAYS WELL WITH…
On that tasting note, let's talk food. This wine cuts through richness and complements spices so it would be good to pair with dense dark meats that are heavily seasoned. BBQ beef short ribs. Mexican adobo. Lamb, stew, chops. Anything roasted, really. And umami driven vegetable dishes especially mushrooms. Slow roasted root veggies. Hard cheeses. Mmmm…can't wait to start cooking!
There you go, fellow wine drinkers. Try some 100% Petit Verdot and let me know about your Verdot verdict.
Humbly in moderation, Peg
Recent Custom Wine Labels