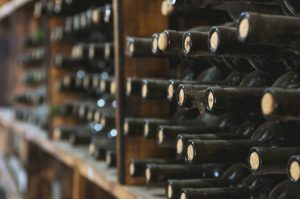 That IS the question. I didn't know very much about Gewürztraminer wine so I thought I would do another little investigation to see what I could see, and taste, as the case may be. It was still warm and summery when this occurred to me but, alas, I lagged a bit and now the days are already changing. It's not really too late to imbibe in white wine. I know it's hard to convince red drinkers of this but many people like white wine. Even in winter. It's true.
A GRAPE BY ANY OTHER NAME
But first the pronunciation! All together now, one syllable at a time:
guh-VURTS-trah-mee-ner. Remember Sister Marcella Marie's rule; say it three times to get it in the marrow of your bones! Also, the German spelling uses the umlaut over the u, which has a good look, but it is not used in the English and French spelling. I think I will use both. That way I won't slight any one country and I can feel ever so international.
A CLOUDY PAST
Ok, so from where does this grape originate? Not sure, from what I can tell. Some sources have it coming from southern Germany which just sounds like it makes sense. But other sources are sure about it originating in Italy in the northern region of Alto Adige c.1000 in a town called Tramin. Indeed, the word Traminer means "from Tramin" and is what Gewürztraminer is called in these parts. (Indeed, I hear some of the best G's s still come from here.) Then I read that someone has a theory about it traveling over from Spain to somewhere between NE France and SE Germany. More research suggests that certain people in Germany in the 1400's wanted to take advantage of the good reputation of wines coming from Tramin in Italy so they called the wine from their region Traminer too! After all is said and read, in the end, it still appears by most accounts to have originated from somewhere around the south of Germany because that's where the Savagnin grapevine family was growing all about.
And what does that have to do with the subject at hand? Well, read on dear wine drinker, to understand the connection. Savagnin (not to be confused with Sauvignon Blanc) is an ancient white wine grape. DNA research published in 2019 confirmed that a 900 year old grapeseed found in Orléans, in central France was genetically identical to modern Savagnin Blanc also known as Traminer. Aha! Because this vine has been around for such a long time and is known to have a very unstable genome, (much like the Pinot group) frequent mutations have occurred and clones developed from these mutations. Savagnin Musqué is the pink skinned, spice scented one better known as, yes, Gewurztraminer. And there you have it. Thanks for hanging in there.
SPICING THINGS UP
Actually "Gewürz" didn't get added to the name until the 1870's when the vine traveled down the Rhine River to Alsace in France which, at the time, was under German rule. The word Gewürz means spicy in German. But they mean it more in the sense of cloves and nutmeg and cinnamon in a big perfumey baking spice way. This grape is highly aromatic. It has really bold and flamboyant aromas of white flowers, honeysuckle, roses, passion fruit, grapefruit, stones and mineral and fruit cocktail syrup among others. But it especially resembles the lychee fruit. Not having much experience with this fruit I went to Uwajimaya just to buy some. It's an odd little bumpy fruit with a sweet aromatic smell and a taste kind of like grape with a citrus/floral/rose character to it. I also experienced a little muskiness in both smell and taste. Come to find out Gewürztraminer and lychee share some of the same aroma compounds so that explains the deep connection. The predominant flavors of this wine are very fruity with lychee, of course, with grapefruit, tangerine, pineapple, melon, peach and apricot and smoke.
GEWÜRZ STYLES
Gewurztraminer grapes are one of the more easily recognizable because of their pinkish pale copper skin color. This also leads to a more deeply colored white wine that can be anywhere from pale straw to golden. These grapes have a high natural sugar content and are lower in acidity and grow best in a cooler climate to help maintain what natural acidity they do develop. The wines themselves are produced in varying degrees of sweetness. They are usually off dry but are also produced very dry, very sweet and sparkling. They are also produced in the late harvest Vendage Tardive style which can be dry or sweet and can be infected with noble rot (Botrytis cinerea) but not necessarily. The Sélection de Grains Nobles style (SGNs to make life easier) is always botrytised and make intensely flavored, sweet and elegant dessert wines that are very highly regarded.
Remember my article on fruitiness versus sweetness? Gewurztraminer is a perfect example of this. Because even though many are off dry, many are actually vinified dry. But the smells and tastes of these wines can be totally misleading. As Karen McNeil says in the Wine Bible, "Such massive fruitiness is often mistaken for sweetness, but many are bone dry."
And speaking of bone dry, some of the worlds most complex and breathtaking dry Gewurztraminers are made in Alsace, France. Most of the world's Gewurztraminer comes from here. It is the second most planted vine and is also one of the exclusive four noble varieties of the region. (I know you want to know what the other three are because I wanted to know too. Rest easy; they are Riesling, Muscat and Pinot Gris. )
Alsace may be the world's largest producer of Gewurztraminer but there's actually not that much grown overall, either here or the world over. As I learned from Wine Folly, for every one vine of Gewurztraminer there are 30 vines of Cabernet Sauvignon. That's quite a difference. But it is grown in other countries as we have already mentioned Germany and northern Italy. Look for bottles from the Czech Republic, Bulgaria, Romania and Slovakia, Ukraine and Hungary. Areas of Australia have a colder climate and volcanic soils that are quite suited to Gewurztraminer. Also New Zealand with an even cooler climate. And here in the United States California's cooler areas like Carneros, Anderson Valley and Monterey county also produce good Gewurztraminers. Then of course we have Oregon and Washington state.
I have acquired several samples of this wine from different areas to taste and review. But before we get into tasting let me add these comments. Gewurztraminer is a wine best drunk young. There are some quality examples out there that might be ageworthy, but, on the whole, drink them on the younger side so they still maintain the acidity they have. Expect a soft full mouthfeel because of the lower acidity and higher alcohol content. And drink it cold, like right out of the fridge.
So let's see what I've randomly come up with here.
We'll start in Germany.
Weingut Geil  2020 Gewürztraminer Kabinett   $18.49
Rheinhessen Germany  12% abv
Glinty light straw colored. A perfumed bouquet, beautiful and full like spiced pears and honey, wet stones and white pepper. Off dry, tastes are bold with tropical fruit, yellow apple and pear but spicy like gingerbread. Nicely balanced. I like.
Domaine Zind-Humbrecht   2015 Gewurztraminer   $25.99
Turckheim (Haut-Rhin) Alsace France   14% abv
Deep golden almost coppery color. The review said textbook G. I don't know if I just lack experience with this wine (which I do) or if this bottle was past its prime, or if it is the way it is supposed to be, but I got a lot of stewed apricot, some lychee, nuts, dried rose petals and petrol on the nose. The palate had a big mouthfeel but was subdued with more rose, mineral and petrol. Maybe just not my style. Would be interested what someone else thinks.
Anne de K   2018 Gewurztraminer   $24.99
Alsace Bestheim France   14% abv
Giving Alsace another go…This example was a lovely yellow gold with a nose of lychee, tropical fruit, nutmeg and stones by the river. The palate was dry but with plenty of fruit like pineapple, sweet peach, a touch of banana and a nice tangerine, slightly bitter finish. Tasty.
B. Lovely   2020 Gewürztraminer   $12.99
Walla Walla Washington State   13% abv
Straw color with gold glints. A delightfully floral nose of honeysuckle and rose, lychee, ripe yellow apple, some caramel and grapefruit pith. A hit of apricot nectar on the approach with spice cake and orange. Fresh and fruity but dry  with a nice dry finish. This might be my favorite of the tasting. Go Washington!
Albino Armani   2019 Gewürztraminer   $18.99
Trentino (Village of Crosano) Italy
Yellow gold with coppery glints. Clean mineral, barely ripe cantaloupe, pear and a slight spice on the nose with ripe green apple, honey comb, white flowers and lime on the palate. Not as aggressively fruity as the others. Lots of fresh minerality with a touch of bitterness on the finish. Very dry and definitely delicious. Went great with my grilled salmon, sautéed kale and lentil dinner. Sorry Washington, this might be my new favorite! Only because I lean towards a drier, less fruit forward wine. This is just me. You may have a different preference.
Let's wrap this up.
PLEASANTLY SURPRISED
I didn't think that Gewurztraminer was my kind of wine. But what I found out was that some are not but some are. This is why I like exploring new wines. It shakes up my presuppositions and gives me more experience in the tasting world. If you like sweeter wines there are definitely Gewurztraminers out there for you. If you like dryer fruitier wines there's also a Gewürztraminer for you. I recommend you go out and try some for yourself. You might be surprised! I was.
Try pairing these wines with milder soft cheeses and spicy Asian foods. I think they also call out for seafood dishes.
Crab, shrimp, whitefish is what I'm thinking. In Alsace they like this with their schnitzel!
Ok, time for me to get outside on this beautiful fall afternoon. I know the world is crazy these days but I sure hope there is a place of beauty in it for you and that you have days that you appreciate and love. It's all we can hope for. That, and world peace!
I'll drink to that!
Cheers,
Peg