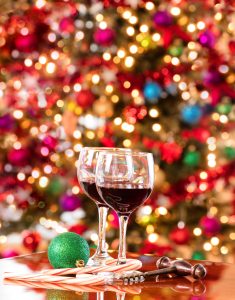 "Beaujolais should not be a civilized society lady; it is the one night stand of wines."  – Kermit Lynch
Not everyone loves Gamay. I wasn't sure that I was a fan either. And that realization clinched it. Thus began another exploration into the vagaries of the wine world. So let's go, Gamay!
FRENCHSPLAINING
First and foremost, it is a dark colored grape. It's proper name is Gamay Noir à Jus Blanc. That's the French way of saying "You know, that black grape with the white juice." (Is that an example of Frenchsplaining?) And, although it is currently gaining in popularity in other cool climate regions of the world, most of what you will find, by far, comes from the Beaujolais region in France. This area, which is a mere 34 miles long and between 7 and 9 miles wide, is where I'm focusing today.
Beaujolais is a wine producing region in eastern France at the southern end of Burgundy. Although it is technically a part of Burgundy, the region is now considered to be its own entity. Beaujolais wines are produced here in their namesake region but it stands apart from the rest of Burgundy because all of the red wines are made from the Gamay grape. It is the only red grape used in red Beaujolais wine. As you might recall, Burgundy proper is famous for its production of Pinot Noir and Chardonnay. But Gamay is the predominant grape here. And, just so you know, a little bit of white wine is also produced in Beaujolais, maybe 1% or so, which is made from Chardonnay and/or Aligoté. Also there's a tad bit of rosé made from Gamay.
CLIMGING THE RANKS
Gamay originated in Burgundy and is thought to have first appeared in the village of Gamay, south of Beaune, in the 1360s. It has had a difficult history that lasts until today. It was considered an "underclass" grape unlike its parent grape Pinot Noir which made quality wines that were far more desirable.  Gamay got this reputation because it can produce huge quantities of grapes making strong, fruity wines of a rustic nature. And made quickly using the method of carbonic maceration. (More on that later.) On the other hand, it has often been grown for these very same reasons. And, unlike Pinot Noir, it ripened earlier and wasn't finicky and hard to grow. Quite the contrary!  Gamay is a very vigorous vine. So the villagers just went with it. In fact, the wine brought great relief to the local population following the decline of the black death. I imagine they wanted whatever wine they could get a lot of and quickly!
But then, in 1395, Duke Philippe the Bold II commanded all the Gamay vines be cut down. Within five months! He referred to it as the "disloyal Gaamez" that in spite of its ability to grow in abundance was full of "very great and horrible harshness."He wanted that land to be replanted with the more elegant Pinot Noir. On top of that, 60 years later, Philippe the Good issued another edict against Gamay saying "the Dukes of Burgundy are known as the Lords of the best wines in Christendom. We will maintain our reputation." Some good he was. They just didn't know how to handle that Gamay grape!
These edicts forced the Gamay grape further south out of Burgundy to what we now know as Beaujolais. The region is basically divided into the north and south growing area. The north has granitic and schist soils where Gamay gains its best qualities. Here is where the highest quality Beaujolais wines come from. But the south produces the most wine. Half of all Beaujolais worldwide comes from here. And half of that is produced as Beaujolais Nouveau. Another controversial subject we will get to in a bit.
WHAT MAKES GAMAY, GAMAY
Let's talk about the general characteristics of Gamay wines. It has been called the only white wine that happens to be red! This has to do with its expressiveness and thirst quenching qualities. It is typically veryfruity with fresh crushed strawberry, raspberry and cherry with some earth and mineral. It can have floral aromas of violet and rose along with characteristic notes of bubblegum and banana owing to the common method of vinification used here called carbonic maceration. The more restricted Crus are more structured and will have more concentrated tastes of the dark fruit of cherry and raspberry liqueurs with spices like nutmeg, cinnamon, and black or white pepper. It is dry with very high acidity and quite low tannins and generally low alcohol. The ideal food and quaffing wine!
So…carbonic maceration. Actually semi-carbonic maceration in this case. What's that? (I just find this so interesting!) While this method can theoretically be used with any type of grapes, it is the traditional method of vinification used in Beaujolais. This is how it works: put whole clusters of hand picked perfect grapes in an inert container like stainless steel or cement, where, due to gravity and the weight of the grapes above, the bottom grapes will get slightly crushed and begin fermenting with the ambient natural yeasts that are on the grape skins. And, because we all know how fermentation works, carbon dioxide is given off in the process. The gas rises up and is retained in the vessel because it has now been covered. It envelops the higher grapes where it starts intracellular fermentation inside each single grape! Until they burst. More juice flows and when all is said and done and all the juice is loose it is continued as a normal fermentation and is subject to the further decisions of the winemaker. This method extracts color from the grapes but little tannin. It keeps the wines light to medium bodied, and extremely fruit forward and also moderates the acid. It also creates the distinctive notes of the bubble gum and banana mentioned above along with candied strawberry. I have also seen the descriptor "pear drops" as common to these wines. Had to look it up; pear drops are a common British hard candy. It was Louis Pasteur who was the first to record how whole grape fermentation affects the flavor of wine. (In straight carbonic maceration carbon dioxide is pumped into the closed container right off the bat. No waiting around for gravity to do its thing.) Isn't that amazing! It's so science-y!
THE NOUVEAU CRAZE
Now we must speak of Beaujolais Nouveau. It's not inherently bad! It's an entirely different style of wine produced within the region. It was originally meant to celebrate the latest harvest and to bring in money to support the wineries while other wines aged and matured. The nouveau wine is vinified the same, however the aging period is just a few weeks to months after harvest, meaning the wine is released to the market during the same season/year that the grapes were picked. And in French law, this must not take place before one minute past midnight on the third Thursday of November. These wines are often rather thin and light bodied and can be slightly sweet. So they are generally not the best expressions of regional quality. They were not meant to be.  However, traditionally, they heralded the new upcoming wines of the current harvest. As stated above, they should not be mistaken for serious wines but instead taken for the light easy wines that they are. Do not try to age these wines as they don't have the structure for that. Drink them within six months and drink it chilled. In France, the uncorking of the first bottles is marked with torchlight parades and fireworks at midnight. All in all there are about 120 Beaujolais Nouveau festivals across Burgundy.
Here in the states, it really became a thing when Georges Duboeuf popularized it as a marketing strategy in the 1960's. Things got pretty crazy after that as more and more French producers tried to capitalize on the "Nouveau craze." There were also some scandals along the way, most notably in 2001 when French wine critic, François Mauss, called out Beaujolais producers for making "vin de merde." (You look it up!) That fomented an uproar and a lawsuit. All of this was very damaging to the reputation of Beaujolais as a real wine region.
OTHER CLASSIFICATIONS
And what of the "real" wines of the region? There are basically three classifications of wine here. The one that produces the most wine: Beaujolais AOC (this is what you would see on the label) coming from the larger southern part of Beaujolais and is the most extended appellation allowed to be used in any of the 96 villages and refers to all basic Beaujolais wines. About half of this is sold as Beaujolais Nouveau. Beaujolais AOC produces light, easy, festive wines that are generally lowest in price. These should be drunk while very young and fresh. And chilled.
Then there are the Beaujolais-Villages AOC labels. All of these wines come from 38 villages in the north. The vineyards are steep and surround the 10 Crus which we'll discuss next. The villages are also permitted to add their name to the label if all the grapes come from one vineyard. These wines are delicious and accessible from more esteemed terroirs and are considered more elevated wines because of their extra structure and complexity.
And then there is the Beaujolais Cru AOC. These are the exceptional wines that come from the 10 most distinctive terroirs in the north. More ambitious, complex and age-worthy they are attracting today's wine geeks and foodies. The latter because they have an unmatched ability to pair with a wide variety of foods. The former because, well, they're geeks and want to drink more unusual vintages. Many of the ten crus are famous for aging up to ten years and during this time developing more Pinot Noir like flavors. Remember, one of Gamay's parents is actually Pinot Noir (the other being the more obscure Gouais Blanc). Here is a list, from north to south, of the ten crus. When you see these names on a label, you will know it is a Beaujolais Cru.
St. Amour, Juliénas, Chenas, Moulin-a Vent, Fleurie, Chiroubles, Morgon, Régnié, Brouilly, Côte de Brouilly
Yep, you just have to know them.
Of course I did some tasting. Just to let you know what I think of these wines. Yeah, that's right…just for you! And I ended up using up my budget on these wines that are all Cru wines. I was curious about the differences between them. Except there's one, from a completely different area. Ah, well…
Guy Breton  Chiroubles   2018
This is an organic wine grown in pink granite at cooler temperatures which results in less concentration. Silky light where sweet cherries dominate along with some little tart berries and some floral characteristics. Light body, high acid, soft easy but detectable tannins. Delicate and lovely.
Jean-Michel Dupré  Grand Cras Morgon   2019
Morgon is known for bigger wines.
The color of light red plums. I found the candy flavors on the nose here with the traditional bubble gum and grape soda balanced by red cherry, white pepper and just the right amount of tannins on the palate. Juicy acidity on the finish that kept me sipping.
Domaine Anne-Sophie Dubois "L'Alchemiste" Fleurie   2019
These grapes came from 1300 ft altitude, grown in pink granite and is unfiltered.
Light garnet color. Lots of cherry on the nose followed by a palate of more more cherry,  some raspberry and a sweet taste akin to Luden's cherry cough drops. Some dry rock in the background. High acidity but a smooth, dry finish infused with a touch of spice. Delicious. It paired superbly with my Cherry tomato sauce pasta with shrimp and sautéed summer squash with mushrooms on the side.
Domaine de la Voûte des Crozes   Côte-de-Brouilly    2018
These grapes were grown on the hillsides of Mont Brouilly, a prehistoric volcano and the wine is unfiltered.
Very deep colored and quite the fragrance of raspberry and cherry. Tastes of tart red currant, pomegranate, more strawberry with some black fruit too. More structured with pronounced tannins and more complex than the others so has aging possibilities if desired. Quite a fine wine.
I happened to be nibbling on some Murray's red cheddar and also some smoked cheddar while I head this opened. A fine match all around.
Ok, one more. This is the outlier bottle not from any of the crus or even Beaujolais. It's from Savoie located in the far eastern part of France in the Alps bordering Switzerland.
André et Michel Quenard   Chignin Gamay Vin de Savoie   2018
Darker in all aspects and much different than the Beaujolais.  Some savory animal notes and dark plum on the nose. Soft mouthfeel with plenty of dark fruit, clove, ripe berries but also something tart like sour cherries or pomegranate. Lots of minerality too. A more complex savory spicy wine.
That's it, folks. And here's what I think.
These wines are quite delicious and so drinkable! I'm very glad to have investigated them.
(I especially loved the one from Fleurie!) Now I'm going to try more Gamay from Beaujolais-Villages and even gird my loins and dip into a Nouveau just to see. I also want to taste the Gamay from the Loire Valley which is another notable location in France. There are other areas that are now producing Gamay, too, like the Willamette Valley and California and Canada. If you like Pinot Noir you should check them out. Much better price points here!
I'm calling this a wrap. And since I won't be in touch again until after the holidays, my wish for all of you is to be healthy, safe and happy.
Peace, love and wine, my friends!