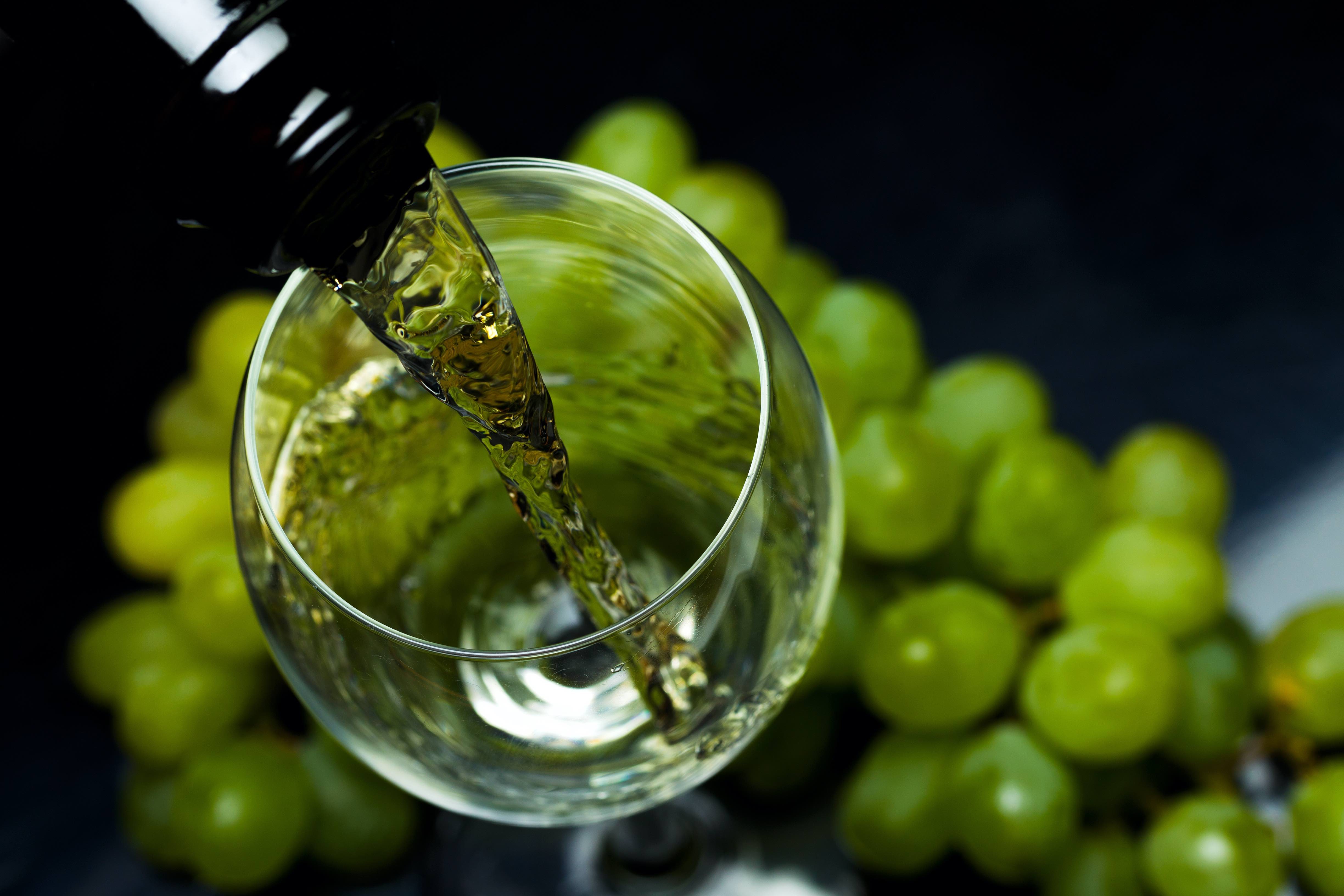 TIME FOR A NEW WHITE
It's March, people! Spring is just around the corner and while many of us are still deeply ensconced in our winter reds, it's time to look towards the light!

And at Albariño.

I was aware of this wine but didn't know much about it. So when Bob suggested it be the subject of a column, I thought "why not?" It's time to expand our horizons once again.
THE RAIN IN SPAIN
Albariño means white wine and mainly comes from the small white wine region of Rías Baixas. Pronounced REE-ez BUY-shez. (You have to say this out loud three times "to get it into the marrow of your bones." This was driven into the marrow of MY bones by a certain ancient high school nun, Sister Marcella Marie. And, as you can see, I have neither forgotten the practice nor her.) Rías Baixas is in far northwestern Spain. This is the semi autonomous region of Galicia. Also known as "green Spain," it is more reminiscent of Ireland and Wales than it is the dry expanse we normally associate with Spain. It is a lush green rainy area of rolling hills with sharp fjordlike estuaries, or rías, that cut into the baixas, or, lower, part of southern Galicia along the coast of the Atlantic Ocean. The people who live here are called Gallegos and are of ancient Celtic origin. They have their own language and drink more wine and consume more seafood than any other Spaniards. And, get this, the traditional instrument of Galicia is the gaita, basically a bagpipe. What! Who knew?

Just a little more history - Galicia was once thought to be where the old world ended. Santiago de Compostela is the capital of the area and I guess they thought it would be a good idea to locate the great cathedral of Santiago de Compostela here. You might want to go to confession here just in case you fell off the edge when you were out sightseeing. This is also where the Camino de Santiago culminates. This pilgrimage, made by the devout and others keen on walking long distances, starts in France and is a network of pilgrims' ways. These pilgrimages all lead to the shrine of the apostle St.James whose remains reputedly lie within the cathedral. Impressive! The entire history of this area is fascinating. Check it out!
TRY THE SEAFOOD
Learning about this region and viewing its many beautiful images made me just want to go there. It seems there are many reasons to visit. First there's the unique culture, then the beautiful landscape and, to top it off, it is a seafood lover's paradise. This area has every kind of seafood you can imagine from freshwater critters and shellfish to deep sea fish from the ocean. It supplies most of the seafood for all of Europe. Interestingly, the scallop shell is the symbol pilgrims carry with them when they do the big walk. So if you, like me, love seafood, this seems like the the place to indulge. And this is what ultimately brings us to Albariño. Reputedly there is no other wine that so perfectly pairs with seafood. Especially, and supremely, with those scallops.

So let's explore the actual wine.
THE ABODES OF ALBARIÑO
Albariño actually has two "homes" in this area. One is in Galicia and will be the place and wine I am focused on for this article. The other is in the very north of Portugal in the Vinho Verde region where it is called Alvarinho. If the label says "Alvarinho" then it will be 100% Alvarinho (Albariño). But the grape here is used in many blends to make the wine we know as Vinho Verde which is a bright dry wine with a little spritz to it. Just so you know.

Albarino is the great white wine variety of Spain. In Rías Baixas it constitutes 96% of all vineyards and also represents almost half of Spanish white grapes in general. I've read different things about how the grape originally came to be in this area but the current thinking is that it is an indigenous grape from...Galicia!

So we know that these vines thrive in the green lush sites on the Atlantic ocean. It likes the cool maritime climate of Rías Baixas. The vines are hardy and the grapes themselves are tiny with thick skins. This enables them to withstand the dampness and also gives them the ability to fight fungus induced diseases associated with this kind of weather. However hardy they are, they are not totally immune to these problems so the vines do require a couple of things. Well draining soil is essential; sandy and granitic soils grow the best grapes. Also, vineyards enlist the Pergola training system to promote airflow. These are like giant tables or canopies with legs of granite that can be 7 to 10 feet off the ground. The vines are grown up and over these corded "tables" and the grapes hang down in the breeze. They are high enough to walk under (and must make for some neck breaking harvesting!) I have also read that it is not uncommon to see old vines growing up and around trees! Speaking of old vines, Albariño has some of the oldest living vines in the world, some being 300 years old!
THE MAKING OF AND LABELING
Although white grapes have been grown along the coast here for centuries, Albariño has only recently come into its own. It received formal recognition as a DO, Denominación de Origen, in 1986. The wines became much improved thanks to the technological revolution in wine that came about in the 80s and 90s. Huge investments were made to build state of the art wineries with modern equipment, temperature controlled stainless steel tanks and also hiring young well trained enologists. Now these "wines of the sea" are considered among the best whites in Spain.

Another distinction for this wine is its label. Unlike the other wines of Spain that are named after a region, say Rioja (Tempranillo), Albariño is varietally named on the label. It says Albariño and it is 100% Albariño. The label will also designate the DO of Rías Baixas and have an official inspection label from the Consejo Regulador. The Consejo guarantees the highest quality standards for all wines from Rías Baixas. They conduct regular vineyard inspections and make sure that growers respect regulations for grape varieties planted, planting density, pruning and training methods and authorized yields. Prior to bottling, a tasting committee from the Consejo (Teacher Reggie called them the "group of little old men who wandered around tasting wine." A joke, but funny, and, who said I didn't listen in class!) samples each vat of wine for quality and performs a sensory evaluation. Only wines that pass all of the quality control trials bear the official Rías Baixas label.
TRANSLATED IN THE TASTING
Albarino uses a cool fermentation in inert vessels, most often stainless, or cement to maintain its delicate aromas and brightness. (There is a modern movement towards oak but it is not traditional and, in time, we'll see how that goes.) It can be light to medium bodied depending on contact with the lees (sediment from particles and dead yeast cells from fermentation) which can be anywhere from 3 to 6 months. This is common practice in Rías Baixas to add more texture, weight and nuance to the wine. And while the subregions will display subtle differences, the wines all share a number of characteristics. They are pale gold in color, are quite crisp with minerality, have moderate alcohol and are bone dry. The flavor is not green like Sauvignon Blanc, not full bodied like some Chardonnays and, no, not aggressively fruity exactly. But not fruitless either! They can have notes of peach, apricot, lemon and grapefruit, sometimes red apple or honeydew along with floral notes like honeysuckle, chamomile and jasmine. There can be a mild phenolic bitterness from the thick skins that add a pleasant depth like tastes of citrus pith and raw almond skins. They are more restrained, elegant and precise with lots of mineral and saline characteristics. Briny, you might say, so close to the ocean! Oh, and they are all very high in acid. Even though these wines are generally meant to be consumed young, due to this high acid content and phenolic structure they can also have incredible aging potential resulting in more complexity.

I sampled four bottles from various places to get a feel for the wine. It was interesting because I had to get used to this type of wine before I could appreciate it. I am so used to bigger bolder wines I had to take a step back and really pay attention to what I had before me. It was a little like going to Death Valley National Monument where, in days of yore, I used to go every early March to leave the dreariness of winter and get get some sunshine and warmth. When I first got there, it seemed so empty and colorless. But as time went on I saw every lone flower as a treasure and all the beautiful subtle colors of the different canyons became quietly spectacular. In time I came to love the area. And thus with this wine.

So...let's get tasting.

Val Do Sosego 2019 Albariño
Rías Baixas. 12.5% abv
$16.99
Pale gold in color with a nose of wet stone, tangerine, and white flowers followed by a slightly creamy palate of white peach, lemony citrus and lots of mineral. Clean and saline, elegant I would say. Went well with my shrimp and lemon risotto.

Burgans 2018 Albariño
Val Do Salnés Rías Baixas 13% abv
$12.99
Glinty pale greenish yellow. Nose hints at apple, apricots and rain soaked moss. Not quite as dry on the palate as the Sosego but has mouth watering acid. I didn't get a lot of actual fruit on the palate, more like stone fruit pit. There is a nice citrus to it, tho, with a long bracing mineral finish for which this sub region is famous. Didn't think this one went as well with my risotto, tho.

Abacela 2019 Albariño
Umpqua Valley Southern Oregon 13.2% abv
$17.49
Pale straw color. More fragrant, with a slightly sweet smell on the nose, like gardenia and pineapple. Also green pepper and chive. A touch creamy on the palate, with lemon zest, a touch of ginger, mandarin orange and a long tart mouthwatering finish. Risotto all gone by now. Thinking lemony white fish would be good.

425 Cellars Grass Lawn 2019 Albariño
Yakima Valley, Washington 13.5 abv
$24.95
Very pale straw color. I got honeysuckle, green apple some tropical fruit and a kind of beer like quality on the nose. This was by far the fruitiest of the ones I tasted with round notes of yellow apple, ripe pear and green jolly rancher candy. This has some minerality and good acidity that keeps you coming back for more. Easy to drink on its own. Which I did. A lot.

Like I said, I really ended up liking this varietal. And it's various styles. I'm going to get a few more to try to increase my knowledge of the sub regions. If you like refreshing white wine I think you should too. This wine is so affordable! Just my opinion, folks.

Take care everybody!
Until next time, bottoms up!
Peg